George E. Gordon III, took over the operations in 1972, became the third generation to manage the company and oversee operations until his unexpected demise in late 2017. To this day, under the leadership of his widow, Salud Arellano-Gordon, GSCo continues to produce high-quality sand that our customers are accustomed to.
In 1995, GSCo entered the golf course material production and eventually expanded into the golf course and turf market, serving the California Central Coast. Through the years, GSCo has consistently produced high-quality sand, and continues to provide

sAnd

requirements to its growing customer base

.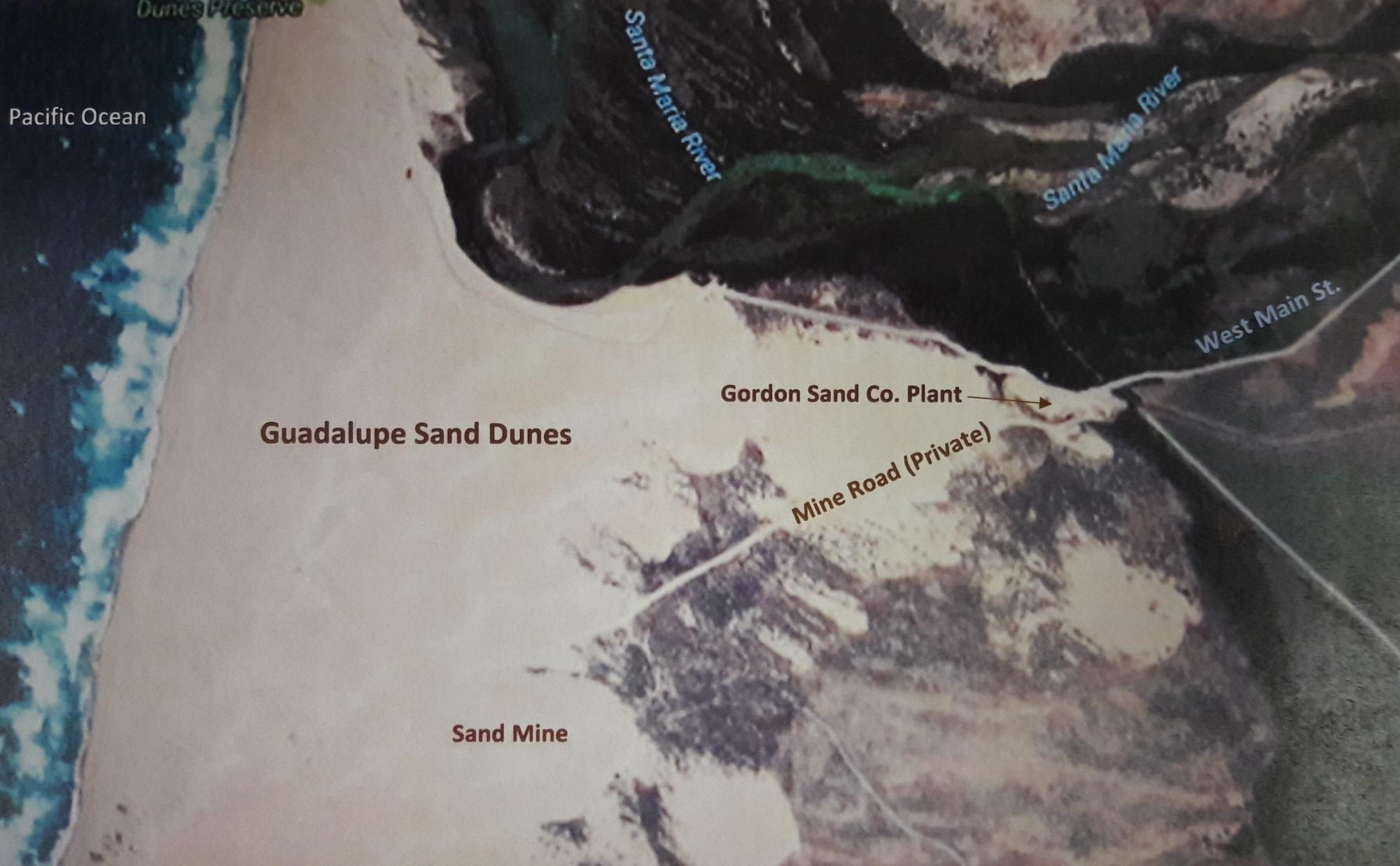 The Plant and Mine Facilities of Gordon Sand Co. are located in Santa Barbara County, at the Rancho Guadalupe Dunes off of West Main St. in the town of Guadalupe, California.
The actions of the Point Conception winds and tidal forces from the Pacific Ocean have concentrated the sand deposit in the Guadalupe Dunes. Adjacent to the West Main St., at the edge of Guadalupe Dunes, G
ordon Sand Co. has developed a Wet Plant for sand washing and storage, and a Dry Plant for drying, grading, blending, and bulk storage.
Photo Credit: Google Earth
"Gordon Sand Company was started by 'Grandpa Gordon' in 1923, selecting sand over the El Segundo, CA sand dunes, and delivering to contractors. Other opportunities came in the form of grading the sand for specific applications."
"George Jr., Grandpa's

eldest

son, and my father, took over the company in 1967. Dad, with Grandpa's financial help, built our first plant at the LAX Airport on the most western end. Our 'Plant' weighed on bulk shipments, dried and graded sand, and package."
~ George E. Gordon III
We invite you to contact us if you have any sand requirements. It will be a pleasure to help you with your sand needs!
The natural deposit of 85% quartzite sand, rounded by the tides and winds over years is one of the few remaining mineral (quartzite) resources that is in operation on the west coast. This sand is now rounded by nature to an Angular x Sub-Angular shape and a Compressive Hardness of some 3,500 PSI.
At the Guadalupe Dunes, the source of our quartzite, Gordon Sand Co. has purchased and developed an open pit mine. Also developed were the Wet Plant for sand washing; a Dry Plant for drying, grading, blending, and bulk storage; and packaging facilities for 50-lb to 100-lb Sacking, and for 3,000-lb Super Sacks.
The

Wet and Dry Plants are supported by Turf Blending facilities for golf courses, custom sand blends for pipelining, and other industrial uses, following strict specifications required by the respective application.